The Razor's Edge is an investing podcast that combines a prop trader's viewpoint and deep-dive fundamental research to provide a unique take on the markets. The show is co-hosted by Akram's Razor, a trader, tech enthusiast, meat lover, Marvel fanboy, battle tested activist short-seller and humble market servant, and by Daniel Shvartsman, VP of Content at Investing.com and someone who has seen thousands of investing pitches and ideas and how they play out over the past decade. The duo start with a theme or idea from Akram's investing, then break it down to understand what goes into the idea, what could go wrong, and what else investors and traders need to know. They also interview industry leaders, executives, and other investors to get a wider perspective. The show has thousands of listeners around the world.
Episodes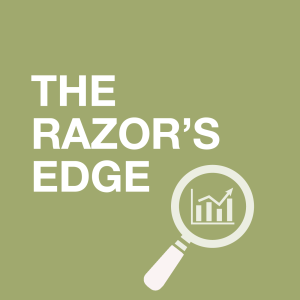 Tuesday Nov 15, 2022
Tuesday Nov 15, 2022
All-star guest Compound248 joins us to follow up on a wild week in the markets. We talk Elon Musk's high volume start as owner of Twitter and the SBF, FTX, crypto crisis. Akram's Razor and Compound go back and forth on the import for the cryptosphere, why Elon and team could have taken easier shots on goal, and break down what breaking the buck means, among other topics.  It's a story of the Hindenburg and the Titanic, and we see how things got to where they are and what might change.
5:00 minute mark – Twitter – the Twitter turmoil in the Musk era, and what Twitter could/should be doing now, the power of direct messages, Elon's core thesis and the voices in his ear, the timing; Twitter's data business and a SaaS digression
44:00 minute mark – FTX – the building blocks that lead to FTX's and SBF's rise; where things went wrong; the importance of staying silent as a levered brokerage business; the Lehman and other parallels; SBF's use of Twitter; Binance's checkmate move and whether it was proximate or definitive; breaking the buck; the final takeaways for crypto and for bitcoin – bull or bear?