The Razor's Edge is an investing podcast that combines a prop trader's viewpoint and deep-dive fundamental research to provide a unique take on the markets. The show is co-hosted by Akram's Razor, a trader, tech enthusiast, meat lover, Marvel fanboy, battle tested activist short-seller and humble market servant, and by Daniel Shvartsman, VP of Content at Investing.com and someone who has seen thousands of investing pitches and ideas and how they play out over the past decade. The duo start with a theme or idea from Akram's investing, then break it down to understand what goes into the idea, what could go wrong, and what else investors and traders need to know. They also interview industry leaders, executives, and other investors to get a wider perspective. The show has thousands of listeners around the world.
Episodes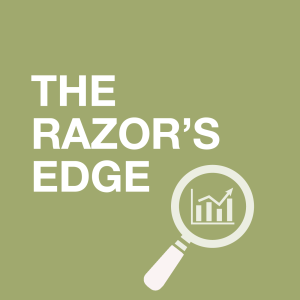 Monday May 23, 2022
Monday May 23, 2022
Markets are in turmoil, and we almost busted out the siren. But instead of commemorating the second bear market in the Razor's Edge's lifetime, we focused on whether, actually, growth stocks might have bottomed. In an episode recorded Sunday, May 22nd, we talk about the growth stock washout, whether sentiment or operating momentum has bottomed, whether ZoomInfo makes sense as a short and Zoom Video makes sense as a long, and the peer pressure that a lot of investors, famous or not, have faced in the past couple years.
This is the first of a two-part episode, as we'll get to the Twitter story tomorrow or Wednesday.
3:00 minute mark – The pending bear market, and have growth stocks already washed out?
8:00 – The ZoomInfo short and picking on the last high flyer standing
14:00 – So is this a bottom?
21:00 – Sentiment bottom vs. operating momentum bottom
33:00 – The recession/slowdown shoe to drop
38:00 – Zoom's "soft landing" problems
43:00 – The two Zooms
52:30 – The turning tide among big-name investors and the peer pressure market