The Razor's Edge is an investing podcast that combines a prop trader's viewpoint and deep-dive fundamental research to provide a unique take on the markets. The show is co-hosted by Akram's Razor, a trader, tech enthusiast, meat lover, Marvel fanboy, battle tested activist short-seller and humble market servant, and by Daniel Shvartsman, VP of Content at Investing.com and someone who has seen thousands of investing pitches and ideas and how they play out over the past decade. The duo start with a theme or idea from Akram's investing, then break it down to understand what goes into the idea, what could go wrong, and what else investors and traders need to know. They also interview industry leaders, executives, and other investors to get a wider perspective. The show has thousands of listeners around the world.
Episodes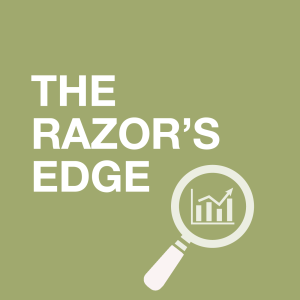 Tuesday Nov 01, 2022
Tuesday Nov 01, 2022
Last week was a big week in tech, so we're back with an episode on two of the biggest stories. First, (2:40 minute mark) we break down Meta Platforms' bummer of an earnings result and why it shouldn't have been so surprising. What choice does Zuck have and where is the business heading?
We then (57:00) get into Amazon and AWS's disappointing quarter, and the future of public cloud. That opens up some space for talking about the generals no longer leading and what a downturn in VC funding means for big tech.
We wrap up with a few minutes on Twitter (1:30:00) now that the Elon Musk deal is done and dusted.
Check out Akram's post on these matters.