The Razor's Edge is an investing podcast that combines a prop trader's viewpoint and deep-dive fundamental research to provide a unique take on the markets. The show is co-hosted by Akram's Razor, a trader, tech enthusiast, meat lover, Marvel fanboy, battle tested activist short-seller and humble market servant, and by Daniel Shvartsman, VP of Content at Investing.com and someone who has seen thousands of investing pitches and ideas and how they play out over the past decade. The duo start with a theme or idea from Akram's investing, then break it down to understand what goes into the idea, what could go wrong, and what else investors and traders need to know. They also interview industry leaders, executives, and other investors to get a wider perspective. The show has thousands of listeners around the world.
Episodes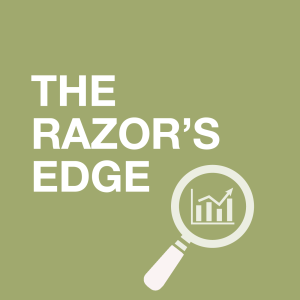 Tuesday Jan 11, 2022
Tuesday Jan 11, 2022
Happy New Year! Though this week's The Razor's Edge touches on what may not be the happiest start for people investing in software names or tech more generally. So what's going on? We throw together a bit of recent and longer-term history, a bit of market sentiment analysis, and some opinions on what might still work, to see why a shift has been coming for a while and why there might be more to come.
Topics covered
2:00 minute mark - Did the first week mark a change or a continuation?
10:00 – The momentum juggling game
13:30 – What's triggering the shift?
20:00 – End of a software cycle and finding an investor base
28:00 – Tracking companies' evolutions
36:30 – Consensus buys vs. taking a leap of faith
48:00 – Multiple gravity has changed towards the slow and steady
57:00 – The 00s shipping bubble as a parallel
59:30 – Navigating the factors and the importance of getting the cycle right
1:11:30 – Sectors to watch
1:17:00 – Importance of perspective
1:21:00 – The nature of competition when all eyes are on a trend
1:35:00 – Not quite validation for permabears either