The Razor's Edge is an investing podcast that combines a prop trader's viewpoint and deep-dive fundamental research to provide a unique take on the markets. The show is co-hosted by Akram's Razor, a trader, tech enthusiast, meat lover, Marvel fanboy, battle tested activist short-seller and humble market servant, and by Daniel Shvartsman, VP of Content at Investing.com and someone who has seen thousands of investing pitches and ideas and how they play out over the past decade. The duo start with a theme or idea from Akram's investing, then break it down to understand what goes into the idea, what could go wrong, and what else investors and traders need to know. They also interview industry leaders, executives, and other investors to get a wider perspective. The show has thousands of listeners around the world.
Episodes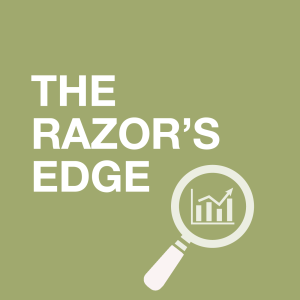 Tuesday Sep 14, 2021
Tuesday Sep 14, 2021
***
Before you listen, there is a The Razor's Edge newsletter now available. Written by Akram's Razor, the Razor's Edge will come out at least twice a month and include ideas, analysis, macro input, and the insights you would expect from this podcast. Check it out at: https://the-razors-edge.ghost.io
***
PagerDuty has been a regular topic on The Razor's Edge for over a year, and this month's earnings seemed to reward that attention, as the company crossed the magic 30%+ revenue growth barrier for the first time since the pandemic began.
To get more details on what drove that acceleration and what might come next, we spoke with Howard Wilson, PagerDuty's CFO. We talked about the macro climate driving PagerDuty's opportunity, the competition they are seeing and why they remain confident about it, and what product expansion looks like.
Justen Stepka, regular Razor's Edge guest and formerly of Atlassian and Docker, joined us, and the conversation went deep on strategy, tactics, and opportunities across the board. We think you'll get a lot out of this episode.
Topics Covered
3:45 minute mark – The second derivative effect
5:45 – What's driving growth?
8:15 – Where is the sales focus?
9:45 – How the free tier fits into the business
13:15 – The power of the freemium model for PagerDuty
16:00 – The changing competitive stance and field
19:30 – Success in competing as a public company so far
22:30 – What is the future revenue growth strategy?
26:15 – PagerDuty network opportunities
29:45 – Customer sizing and how far penetration can go
37:45 - Pricing tiering potential
40:30 – Security Ops as an opportunity
42:15 – Long-term operating leverage