The Razor's Edge is an investing podcast that combines a prop trader's viewpoint and deep-dive fundamental research to provide a unique take on the markets. The show is co-hosted by Akram's Razor, a trader, tech enthusiast, meat lover, Marvel fanboy, battle tested activist short-seller and humble market servant, and by Daniel Shvartsman, VP of Content at Investing.com and someone who has seen thousands of investing pitches and ideas and how they play out over the past decade. The duo start with a theme or idea from Akram's investing, then break it down to understand what goes into the idea, what could go wrong, and what else investors and traders need to know. They also interview industry leaders, executives, and other investors to get a wider perspective. The show has thousands of listeners around the world.
Episodes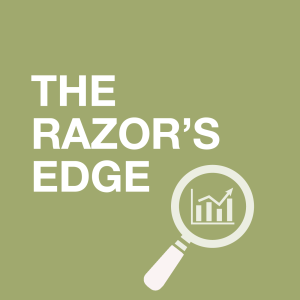 Tuesday Aug 02, 2022
Tuesday Aug 02, 2022
Roku's dud of a quarter echoed both Snap's report from the week earlier and the start of the pandemic as the sudden advertising slowdown hit them as well. The issues with Roku go beyond the quarter, starting primarily with how much harder it is to understand the details of their business. Will this quarter force a change? And what else does the advertising slowdown mean for the market? We discuss on this week's The Razor's Edge.
Topics Covered
3:30 minute mark – Breaking down Roku's wipeout
11:30 – How important is the advertising wipeout in general
19:30 – Whisper numbers and the Roku black box
31:30 – Will this force Roku to be more transparent? The Twilio example
39:30 – What makes Roku more interesting?
55:00 – The death of never sell