The Razor's Edge is an investing podcast that combines a prop trader's viewpoint and deep-dive fundamental research to provide a unique take on the markets. The show is co-hosted by Akram's Razor, a trader, tech enthusiast, meat lover, Marvel fanboy, battle tested activist short-seller and humble market servant, and by Daniel Shvartsman, VP of Content at Investing.com and someone who has seen thousands of investing pitches and ideas and how they play out over the past decade. The duo start with a theme or idea from Akram's investing, then break it down to understand what goes into the idea, what could go wrong, and what else investors and traders need to know. They also interview industry leaders, executives, and other investors to get a wider perspective. The show has thousands of listeners around the world.
Episodes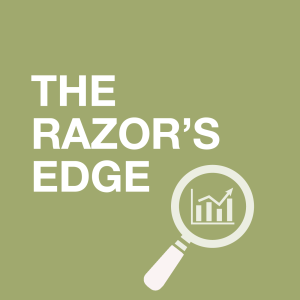 Tuesday Feb 21, 2023
Tuesday Feb 21, 2023
It's been a funky start to the year, as a dash for trash rally has extended into a not as bad as expected earnings rally, and now it's easy to be wrongfooted.
We dive into this market, including how markets don't go straight to zero, no matter what December felt like; how recessions take a long time to play out; what we can learn from moves in Twilio and Meta; and why the rise of AI has complicated narratives.