The Razor's Edge is an investing podcast that combines a prop trader's viewpoint and deep-dive fundamental research to provide a unique take on the markets. The show is co-hosted by Akram's Razor, a trader, tech enthusiast, meat lover, Marvel fanboy, battle tested activist short-seller and humble market servant, and by Daniel Shvartsman, VP of Content at Investing.com and someone who has seen thousands of investing pitches and ideas and how they play out over the past decade. The duo start with a theme or idea from Akram's investing, then break it down to understand what goes into the idea, what could go wrong, and what else investors and traders need to know. They also interview industry leaders, executives, and other investors to get a wider perspective. The show has thousands of listeners around the world.
Episodes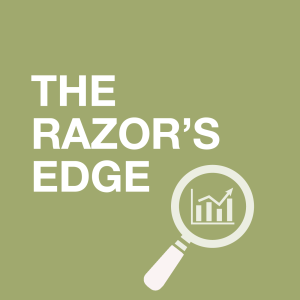 Monday Jun 05, 2023
Monday Jun 05, 2023
It's been a while since we've posted a Razor's Edge episode, and a lot has happened! A whole banking crisis came and went and apparently is all resolved (?). More relevant to the sort of things we talk about, the Nasdaq has returned to full bull market mode, powered by the excitement around generative AI, as best embodied by Nvidia's smashing earnings report of late May 2023.
There's a lot to be legitimately excited about with this trend, and at the same time, like every exciting new thing, there's a lot to be suspicious of. Is generative AI going to generate us right out of what was still a re-centering, declining tech market? Can generative AI be good for every publicly traded tech company except CHGG? When does chat GPT replace us as hosts?
That's what we cover on this week's episode, more or less.
Topics Covered
3:00 minute mark - The macro backdrop for this bifurcated rally
7:30 – What we learned from NVDA's report
15:30 – How this AI compute trend plays out across the semiconductor sector
24:00 – AI uses and AI losers or trade-offs
34:00 – Bear market rally, death of permabears, and the many crosswinds
46:00 – How the cost-cutting rally collides with the AI investment rally
53:30 – How does anyone get an edge using AI