The Razor's Edge is an investing podcast that combines a prop trader's viewpoint and deep-dive fundamental research to provide a unique take on the markets. The show is co-hosted by Akram's Razor, a trader, tech enthusiast, meat lover, Marvel fanboy, battle tested activist short-seller and humble market servant, and by Daniel Shvartsman, VP of Content at Investing.com and someone who has seen thousands of investing pitches and ideas and how they play out over the past decade. The duo start with a theme or idea from Akram's investing, then break it down to understand what goes into the idea, what could go wrong, and what else investors and traders need to know. They also interview industry leaders, executives, and other investors to get a wider perspective. The show has thousands of listeners around the world.
Episodes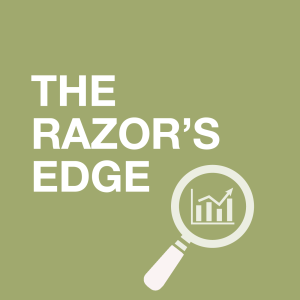 Tuesday Jun 21, 2022
Tuesday Jun 21, 2022
On this week's The Razor's Edge, we talk about the bear market. It's here, it's real, so now what?
Neither Akram nor Daniel are in an apocalyptic mood, so we explain why we're not, what green shoots there are on the supply side, what risks there are on the demand side, how this echoes 2020 (or not), how much crypto contagion worries us, and why it's tricky picking individual names.
Topics Covered
2:00 minute mark – An apocalyptic moment? Maybe not
10:00 – Is supply solving itself just as demand is weakening?
20:00 – The energy pullback – why was it predictable
23:00 – The echoes of March 2020
30:00 – Crypto contagion and its risks
38:00 – Opportunities in the current market
48:00 – What if inflation doesn't slow down?
52:00 – The challenge of individual names and the hopes for a quiet summer