The Razor's Edge is an investing podcast that combines a prop trader's viewpoint and deep-dive fundamental research to provide a unique take on the markets. The show is co-hosted by Akram's Razor, a trader, tech enthusiast, meat lover, Marvel fanboy, battle tested activist short-seller and humble market servant, and by Daniel Shvartsman, VP of Content at Investing.com and someone who has seen thousands of investing pitches and ideas and how they play out over the past decade. The duo start with a theme or idea from Akram's investing, then break it down to understand what goes into the idea, what could go wrong, and what else investors and traders need to know. They also interview industry leaders, executives, and other investors to get a wider perspective. The show has thousands of listeners around the world.
Episodes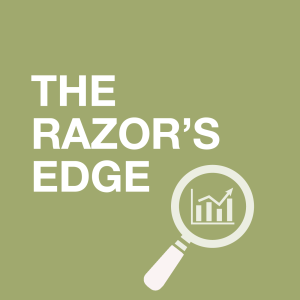 Friday Apr 22, 2022
Friday Apr 22, 2022
Tech as a sector has been a theme of the Razor's Edge from the beginning. Tech as a sector to avoid has been a theme of the Razor's Edge for at least the last few months. While there have been exceptions and nuances to the sector, the market has shown little interest in nuance, as this week's earnings have made clear.
Juniper Networks, an old dot com bubble victim and survivor, has been an exception to that rule. A name Akram's Razor wrote up as a long thesis late last year, Juniper is up for the year as it has a few points in its favor: an upgrade cycle, a reasonable valuation, and operational momentum in the Wi-Lan space thanks to a winning acquisition.
We discuss the company's prospects and why it is an exception to the tech rule, and also the legacy of tech sector sentiment shifts and a lot more.
Topics Covered
2:30 minute mark – The upgrade cycle driving Juniper
7:30 – Why the company has stagnated for so long and why that is changing
13:00 – The Wi-LAN opportunity and kicker
18:00 – How is Juniper handling the backlog
21:30 – Relative performance for Juniper and its risk/reward
27:30 – The dot.com legacy and the recent momentum
31:30 – How the networking and virtualization corner of tech fits into a broader tech bucket
35:30 – Tech shifts in sentiment, and a Microsoft case study