The Razor's Edge is an investing podcast that combines a prop trader's viewpoint and deep-dive fundamental research to provide a unique take on the markets. The show is co-hosted by Akram's Razor, a trader, tech enthusiast, meat lover, Marvel fanboy, battle tested activist short-seller and humble market servant, and by Daniel Shvartsman, VP of Content at Investing.com and someone who has seen thousands of investing pitches and ideas and how they play out over the past decade. The duo start with a theme or idea from Akram's investing, then break it down to understand what goes into the idea, what could go wrong, and what else investors and traders need to know. They also interview industry leaders, executives, and other investors to get a wider perspective. The show has thousands of listeners around the world.
Episodes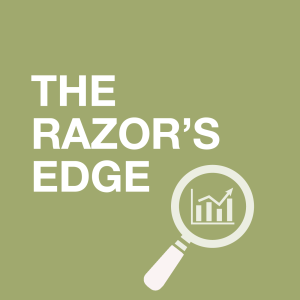 Tuesday Apr 12, 2022
Tuesday Apr 12, 2022
A lot has happened since we last published a Razor's Edge episode: the outbreak of war, increased Fed hawkishness, and continued market volatility.
We pick up the thread we've been following for some time, though: how to understand 'normalized' earnings power and behavior amidst the Covid-19 pandemic, the global response, and all the knock-on effects. We focus this time on the consumer goods sector and whether the cliff facing companies like RH and Best Buy is buyable, and what it says about the current market.
We also, because how could we not, discuss Elon Musk's investment in Twitter (though this was recorded a few hours before the news came out that he would not in the end serve as a director on Twitter's board).
Topics Covered
4:00 minute mark – Recent ups and downs
7:30 – Whither online spending
13:00 – The Consumer's health and the consumer goods cliff – BBY, RH
23:00 – How much has the market already considered this all?
36:00 – Backlogs to save us
40:00 – Dive in or stay away? Revisiting travel
49:00 – The complicated consumer picture
54:00 – Twitter and the Musk situation
1:03:00 – The value of a corporate jackhammer
1:09:00 – The security analysis challenge
Reading List: