The Razor's Edge is an investing podcast that combines a prop trader's viewpoint and deep-dive fundamental research to provide a unique take on the markets. The show is co-hosted by Akram's Razor, a trader, tech enthusiast, meat lover, Marvel fanboy, battle tested activist short-seller and humble market servant, and by Daniel Shvartsman, VP of Content at Investing.com and someone who has seen thousands of investing pitches and ideas and how they play out over the past decade. The duo start with a theme or idea from Akram's investing, then break it down to understand what goes into the idea, what could go wrong, and what else investors and traders need to know. They also interview industry leaders, executives, and other investors to get a wider perspective. The show has thousands of listeners around the world.
Episodes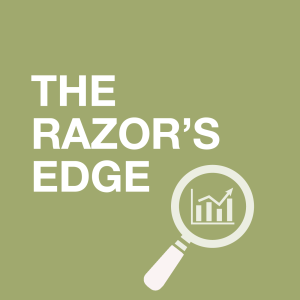 Tuesday Dec 07, 2021
Tuesday Dec 07, 2021
Docusign's sell-off on Friday and the corresponding market (and Nasdaq) sell-off are the latest sign of market uncertainty. No one knows anything – as Monday's rally reminds us – but the question is whether we know we don't know. In this week's The Razor's Edge, we focus on the uncertainty in the market, the importance of valuation even when growth stocks work, and how to handle the volatility. This ends up being a two-parter, as we will get to Jack Dorsey's exit from Twitter in the second part next Tuesday.
Topics Covered
2:45 minute mark – Docusign initial take
5:00 – Ringing the bell or the rolling sell-off
14:00 – Inflation and the macro in context
21:00 – Buy and hold and contrasting investing styles
24:00 – Starting SaaS multiples
35:00 – Limited entry point
43:00 – Bubble basket challenges
51:00 – Triggers and bottoms
Some references: