The Razor's Edge is an investing podcast that combines a prop trader's viewpoint and deep-dive fundamental research to provide a unique take on the markets. The show is co-hosted by Akram's Razor, a trader, tech enthusiast, meat lover, Marvel fanboy, battle tested activist short-seller and humble market servant, and by Daniel Shvartsman, VP of Content at Investing.com and someone who has seen thousands of investing pitches and ideas and how they play out over the past decade. The duo start with a theme or idea from Akram's investing, then break it down to understand what goes into the idea, what could go wrong, and what else investors and traders need to know. They also interview industry leaders, executives, and other investors to get a wider perspective. The show has thousands of listeners around the world.
Episodes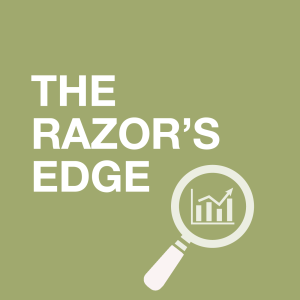 Tuesday Nov 23, 2021
Tuesday Nov 23, 2021
We wrap up our Future of Compute series with a leading force in the field, Naveen Rao. Rao founded Nervana Systems, the first next-gen AI chip company, which he sold to Intel. He then drove Intel's AI road map before stepping down from the company in 2020, and just recently announced the founding of MosaicML, an AI startup focused on making algorithms more efficient through what he calls here a 'benchmarking as a service' approach.
Given his interest in AI stretching back over two decades and his front seat position in the field, Rao's perspective on the competitive landscape, on how things have changed from Nervana to Mosaic, and the challenges facing merchant silicon firms is both valuable and a nice wrap-up of the three part series. He gives his take on the Nvidia/ARM deal, Intel's position, the supply chain, and a lot more.
Check out MosaicML, as well as their twitter account and Naveen's.
Topics Covered
2:30 minute mark – Naveen's entry into the AI world over his career
6:00 – What did people have to learn about neural networks?
8:00 – The goal of Mosaic
14:00 – View on the current landscape
17:30 – The model Mosaic is targeting
20:30 – The significance of Nvidia's A100 and shift to AI dedicated GPUs – the field in 2016
26:00 – The field in 2018
32:30 – How to look at the AI market today
38:30 – The challenges facing legacy merchant silicon makers
45:30 – Can the industry continue to develop with such a fragmented environment
51:30 – Intel's reaction to the current climate
55:30 – Where are the IPOs?
1:04:00 – Tesla's D1 Chip and AI ambitions
1:12:30 – The Nvidia/Arm deal
1:15:30 – Supply Chain challenges