The Razor's Edge is an investing podcast that combines a prop trader's viewpoint and deep-dive fundamental research to provide a unique take on the markets. The show is co-hosted by Akram's Razor, a trader, tech enthusiast, meat lover, Marvel fanboy, battle tested activist short-seller and humble market servant, and by Daniel Shvartsman, VP of Content at Investing.com and someone who has seen thousands of investing pitches and ideas and how they play out over the past decade. The duo start with a theme or idea from Akram's investing, then break it down to understand what goes into the idea, what could go wrong, and what else investors and traders need to know. They also interview industry leaders, executives, and other investors to get a wider perspective. The show has thousands of listeners around the world.
Episodes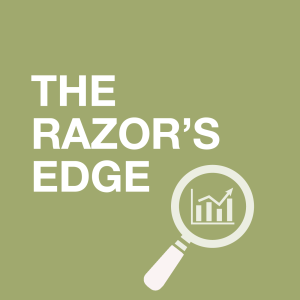 Tuesday Feb 08, 2022
Tuesday Feb 08, 2022
Last week was a wild one. Given we're not in a period of acute crisis, and that the market finished higher on the week, the swings from Wednesday to Thursday to Friday were especially pronounced, even before you throw in Monday's comeback rally. The triggers to those moves? At least on the surface, big tech earnings.
To figure out what's happening there and what these outsized moves say about the companies involved and the market as a whole, Akram's Razor and Daniel break down Google, Amazon, and Facebook's earnings. We talk about the market set up, whether this is as good as it is going to get for these companies, and why no one predicts a massive growth slowdown in their compounding business line.
Topics Covered
2:00 minute mark – Initial reaction including the muted note with Google
7:00 – What explains the outsized moves
14:00 – The nature of Amazon's segments
18:00 – Facebook's issues and how they might overcome it
30:30 – Peak online time
36:00 – AWS's future growth
46:00 – Is this what slowdowns look like
1:00:00 – The market set-up