The Razor's Edge is an investing podcast that combines a prop trader's viewpoint and deep-dive fundamental research to provide a unique take on the markets. The show is co-hosted by Akram's Razor, a trader, tech enthusiast, meat lover, Marvel fanboy, battle tested activist short-seller and humble market servant, and by Daniel Shvartsman, VP of Content at Investing.com and someone who has seen thousands of investing pitches and ideas and how they play out over the past decade. The duo start with a theme or idea from Akram's investing, then break it down to understand what goes into the idea, what could go wrong, and what else investors and traders need to know. They also interview industry leaders, executives, and other investors to get a wider perspective. The show has thousands of listeners around the world.
Episodes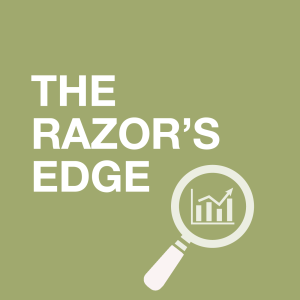 Tuesday May 24, 2022
Tuesday May 24, 2022
In part two of our recording this week, we get to Elon Musk and Twitter. Both because how can we not at this point, as the drama continues to unfurl, and also because Akram makes the case for this as a good merger arb play given the strength of contract law. We talk about whether Musk can work his way out of this and why Akram thinks he can't, and what the next steps of the saga should be, along with a whole lot more.
Topics Covered
3:00 minute mark - The logical aspects of the Twitter case
13:30 - Twitter's setting up to go the distance, and the bots issue
30:00 - How material is the bots case
35:00 - What are the next steps, and the role of the equity partners
43:00 - Past precedents
50:00 - The outstanding risks to Twitter as a company and to Tesla as a stock
1:00:00 - Quick comments on the retail sector