The Razor's Edge is an investing podcast that combines a prop trader's viewpoint and deep-dive fundamental research to provide a unique take on the markets. The show is co-hosted by Akram's Razor, a trader, tech enthusiast, meat lover, Marvel fanboy, battle tested activist short-seller and humble market servant, and by Daniel Shvartsman, VP of Content at Investing.com and someone who has seen thousands of investing pitches and ideas and how they play out over the past decade. The duo start with a theme or idea from Akram's investing, then break it down to understand what goes into the idea, what could go wrong, and what else investors and traders need to know. They also interview industry leaders, executives, and other investors to get a wider perspective. The show has thousands of listeners around the world.
Episodes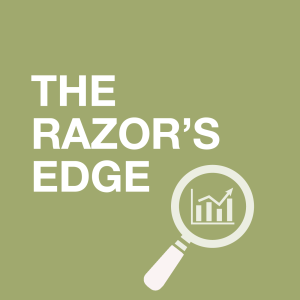 Tuesday Dec 14, 2021
Tuesday Dec 14, 2021
We pick up this week's conversation where last week's (and so many of our past episodes left off) - what about Twitter, at this price, in this economy? We talk about the succession decision and why the set-up for the incoming CEO, intentionally set or not, is pretty attractive. We talk about Elliott Management's role in all this, and what they might be thinking about Twitter at this stage. We talk about downside and sector performance, and then we circle back to last week's discussion on the overall market volatility and why buying great companies irrespective of price can lead to more than the occasional pothole, even if the ride as a whole may turn out successful enough.
Topics Covered
2:45 minute mark – Twitter's valuation and the set up for new CEO Parag Agarwal
8:00 - The succession decision
14:00 – Other considerations for this move
22:00 – The downside at this point for Twitter
25:00 – Elliott's role in all of this
29:00 – Sector movements
34:00 – Market considerations
40:00 – Places to avoid
45:00 – Extreme outcomes when buying a good business
49:00 – The ongoing volatility event in the market