The Razor's Edge is an investing podcast that combines a prop trader's viewpoint and deep-dive fundamental research to provide a unique take on the markets. The show is co-hosted by Akram's Razor, a trader, tech enthusiast, meat lover, Marvel fanboy, battle tested activist short-seller and humble market servant, and by Daniel Shvartsman, VP of Content at Investing.com and someone who has seen thousands of investing pitches and ideas and how they play out over the past decade. The duo start with a theme or idea from Akram's investing, then break it down to understand what goes into the idea, what could go wrong, and what else investors and traders need to know. They also interview industry leaders, executives, and other investors to get a wider perspective. The show has thousands of listeners around the world.
Episodes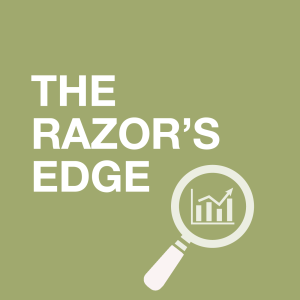 Monday Apr 18, 2022
Monday Apr 18, 2022
We planned to do another episode this week, but on a different tech stock. We did indeed record that episode, but at the same time, with all the developments around Twitter - the board's adoption of a poison pill, Elon Musk's discussion of his bid during a Ted talk, and Jack Dorsey's subtweets of the board, among other things - we decided to discuss the situation.
Akram's Razor posted a case for why Twitter's Endgame is at hand. Daniel had questions. And with this being a fast-moving situation, we are sharing it quickly. The second half of the discussion, on a different tech company, will come out later this week.
Topics Covered
3:00 minute mark – How the surrounding situation has changed and the case for the Elon Musk offer
15:30 – Why the current price of offer is ok and avoiding anchoring
28:00 – The private company angle and Twitter's needed transformation
40:30 – Jack's presence in all of this