The Razor's Edge is an investing podcast that combines a prop trader's viewpoint and deep-dive fundamental research to provide a unique take on the markets. The show is co-hosted by Akram's Razor, a trader, tech enthusiast, meat lover, Marvel fanboy, battle tested activist short-seller and humble market servant, and by Daniel Shvartsman, VP of Content at Investing.com and someone who has seen thousands of investing pitches and ideas and how they play out over the past decade. The duo start with a theme or idea from Akram's investing, then break it down to understand what goes into the idea, what could go wrong, and what else investors and traders need to know. They also interview industry leaders, executives, and other investors to get a wider perspective. The show has thousands of listeners around the world.
Episodes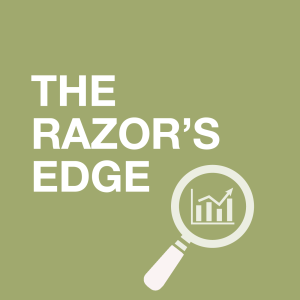 Tuesday Jul 19, 2022
Tuesday Jul 19, 2022
It's all happening: Elon Musk filed to terminate his deal to buy Twitter, Twitter sued him for specific performance, and now the trials begin. Today, not a trial actually but a hearing to see whether the trial should take place on Twitter's requested timeline, in September, or Musk's requested timeline, in February.
Still, the two sides are starting to show their hands. While much of this 'negotiating' has been done in public, the filings were still revelatory. So, as we approach the endgame of the endgame, Akram's Razor and Daniel talk about what we learned, what happens next, and who has a stronger hand; though I don't think you'll be surprised by our conclusions if you've listened to us before.
 Topics Covered

3:30 minute mark – Initial takeaways from the filings
12:30 – Twitter bot approach and response
15:00 – Breaking down Elon's breach filing
23:30 – Takeaways from Twitter's filing
29:00 – Recutting a deal and the Anaplan parallel
48:00 – Musk's motivations and laziness
1:00:00 – What happens next?
1:09:30 – The "the court wouldn't risk being ignored" argument
1:14:00 – The prisoner's dilemma result of an actual acquisition
1:18:00 – The size of the deal
1:28:30 – Last thoughts